From the 13th of August until the 19th of September as part of the T&T Days #2, ArtMill, our Czech partner, presents a seed-themed event that includes workshops, exhibitions, performances and an open call. 
The festive season at the rural farm includes several events of which:
– Installation and participatory workshop "Unless a Seed/Emancipation into Solitude" by Alexandra Wolska (Poland/USA)​, created with her partner, award-winning film-maker Eric Thiermann. Her workshop, "Unless a Seed", will be complemented with a multi-media event that explores seed as a metaphor of reconnection with the Earth and with basic principles of human aliveness.
– Seed exchange event each weekend at ArtMill
– The exhibitions "SEEDS to the 7th Power" includes artist-in-residence Veronica Bromová, whose elegant silk cyanotypes tapestries produce garden images filled with light. Her beautiful works on paper blur the lines between human and non-human, projected onto the dark walls of the mill's interior they take on a new living presence. The group show, curated by Barbara Benish, brings together a dozen of her Czech artist friends, who over the decades of shared friendship and visual exchange, sow the seeds of creative inspiration. Includes Ivan Kafka, Aleš Veselý, Erica Bornová, Tomaš Cisarovský, Jana Preková, Vladimír Kokolia, Tomaš Ruller, and more….
– an open Call SEEDS project to be exhibited Sept 18-19 at ArtMill. Last submissions on the 31st of August.
–  SEED Fest on the 18-19 September. Invited artists Newton Harrison (California) will talk about the Future Gardens Project and we will present our Central European edition of it. Read more about the project here.
The ArtMill Barn Gallery will be open each Saturday through September, from 10-5 pm.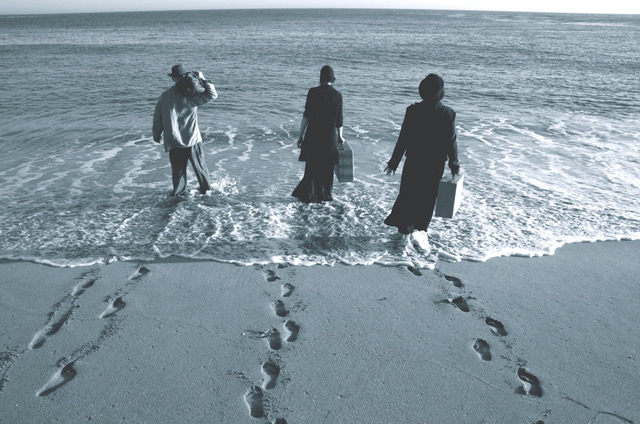 Artist bios: 
Hana Novakova is a filmaker and artist. For her Table and Territory piece at ArtMill last fall, she created a work based on the treatement of factory chicken farms, with a work on Supermarkets.  She has long been engaged in environmental justice issues and animal rights. She will be documenting the SEED festival for a new short work on seed banks, art, and Exchange in August.
Veronika šrek Bromova. Created cyano-type images of wild herbs on silk tapestries. Bromova will be making new work for the SEEDS Festival this summer at ArtMill  on the theme of corn.
Dr. Aleksandra Wolska is a theater / performance artist, writer, educator, film maker and a scholar. She holds an MFA in Directing (Boston University) and a Ph.D. in Dramatic Criticism (Stanford University). Her directorial credits range from originally devised productions to plays by Shakespeare, Ionesco and Beckett; most notably, she directed all wear bowlers (Drama Desk Nomination) and machines machines machines machines machines machines machines machines (Obie Award) with Rainpan 43, which showed at HERE Arts Center in New York and other national and international venues. As a filmmaker, she wrote and co-directed the documentary The Heart of a Bell which premiered at Pacific Rim Film Festival. Formerly an Assistant Professor of Theater Arts at the University of Minnesota, Aleksandra is an independent scholar working on a book I Am Theater: the Cosmic Art of Acting as well as on The Performer (film and play), The Feast of the Hungry Ghosts (a multi-media eco-play) and Theater Between, a site of ongoing para-theatrical and theatrical activities. She works and lives in Santa Cruz.