École de l'Anthropocène, Lyon, January 29: Sugar Killer, A Selfood Inquiry, a research-creation developed by Thierry Boutonnier as part of the European program, La Table et le Territoire, supported by COAL and five European partners. The artist and the scientists with whom he collaborates shared their research and compiled experiments on representations of food and agriculture with adolescents during a workshop on the program of L'École de l'Antropocène. It was held in Lyon from January 27 to February 2, 2020.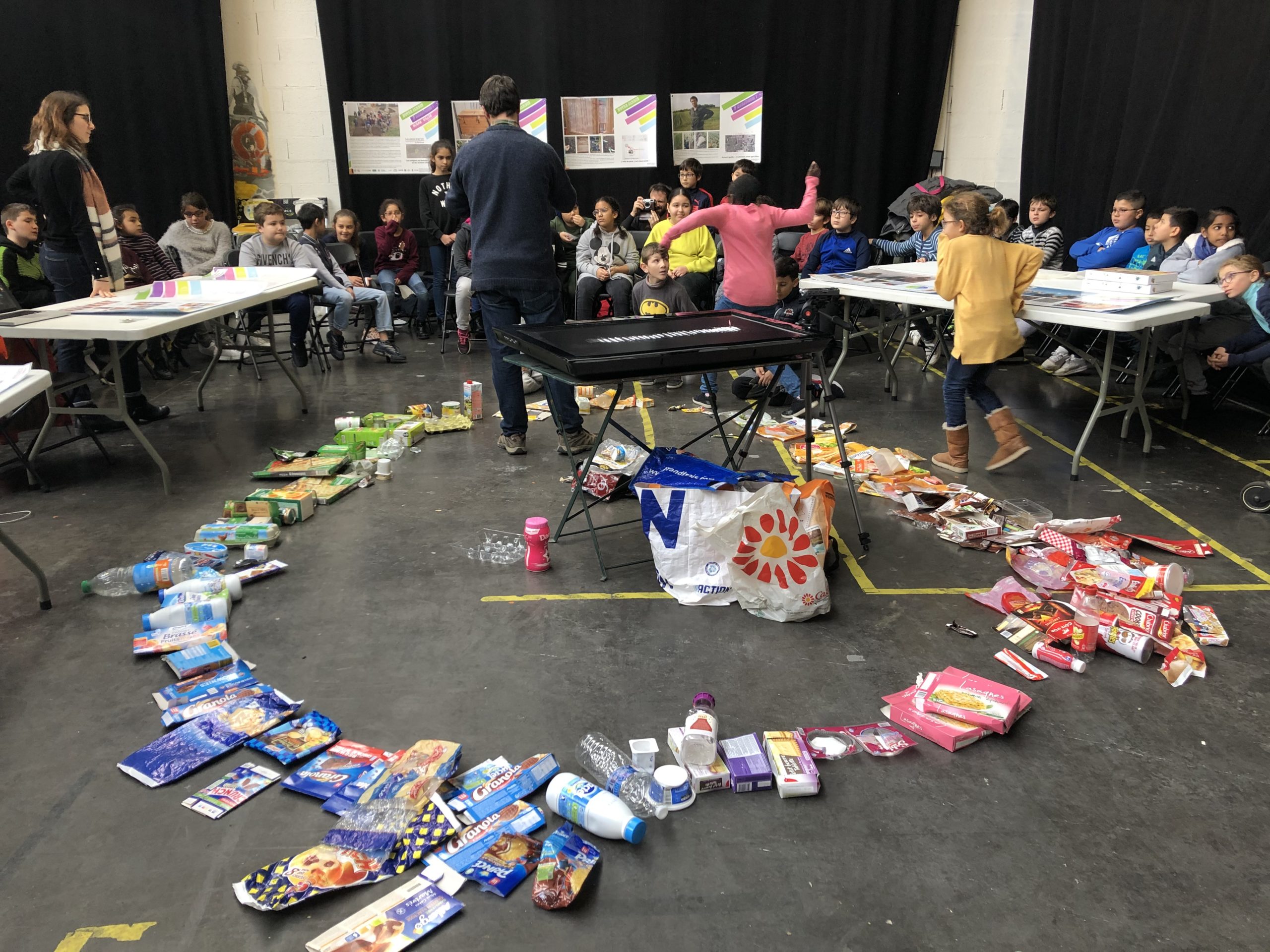 The experiments within the framework of this research-creation are co-constructed by the artist Thierry Boutonnier, COAL, the scientists Julie Le Gall (ENS Lyon), Adrien Baysse-Lainé (Université Lyon 2 / INRA) and Olivier Hamant (ENS Lyon , anthropocene lab) in connection with the Marguerite network, teachers and middle school students from France and around the world. The study took place in two regions: Adriana professional agricultural high school in Tarbes and Henri-Barbusse college in Vaulx-en-Velin, in cooperation with teachers Aurélie Rogé, Flore Charbouillot, Léa Postil, Béatrice Marchandise.
These two very different territories have many foods in common, this project compares them to question our relationships with contemporary food landscapes. Dissonances are growing as the  disorders caused by the multiple refinement processes of food are starting to manifest. Adolescents today suffer contradictory addictions and the neuroses related to the anthropophagous anthropocene. This workshop investigates through the eyes of adolescents the major challenges of food that we face today. Through collaboration between different scientific and artistic actors, and the integration of the younger generation in the process of creation, this workshop intends to "transmit the taste of knowledge, the joy in our palate and the pleasure of languages ", as the artist Thierry Boutonnier invites us to do.
Speakers
Middle school students of the Henri Barbusse, Vaulx-en-Velin
Representatives of agro-industrial sectors
Thierry BOUTONNIER, artist
Léa POSTIL, art teacher at Henri Barbusse middle school, Vaulx-en-Velin
Flore CHARBOUILLOT, Information teacher at Henri Barbusse middle school, Vaulx-en-Velin
Aurélie ROGÉ, sciences teacher at Henri Barbusse college, Vaulx-en-Velin
Alexandra PECH, doctor EUL
Lauranne GERMOND, COAL Art and Ecology non-profit organisation
Martine CADOR, researcher at the Institute of Cognitive and Integrative Neurosciences of Aquitaine
Camille CHAUSSINAND, representing Mr the Deputy Olivier VERAN
Malika FÉKIR, physics teacher at the Henri Barbusse middle school
Practical information on the event: Facebook 
Crédit photo : « Sugar killer, a selfood inquiry » Studying Selfood images with the students of Henri Barbusse middle school. © Thierry Boutonnier