Artfarm is a research-creation lead by Artmill. It takes place from 1st of April to 30th of August 2020 in Artmill's farm located in Horaždovice (CZ). Artfarm reunites several Czech and European artists with farming families in the region. The result is seven projects.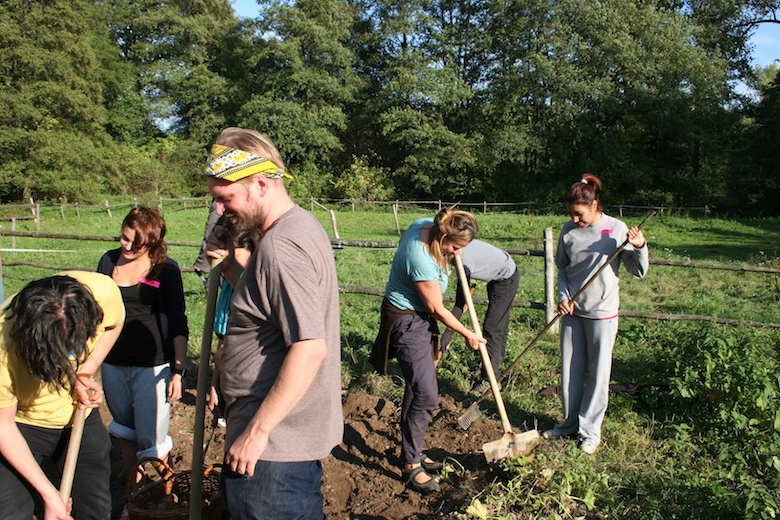 1. "Bring Your Harvest"  "přijd a sklid' with artists Tomaš Hruza and Andrea Průchová Hrůzová, Ph.D.
This project aims to engage with a community of neighbours living in the village of Miřenice located in the southern-west region of the Czech Republic. Miřenice represents a place where a local community get together  from time to time on specific occasions like Shrovetide or birthday party, however there exists a lack of the sense of a real community where neighbours intensively care of each other and share their everyday lives.Our goal is therefore to employ a motif of gardening as a common ground to every person living permanently or temporarily in the village. Through the period of summer, every household finds itself flooded with certain types of vegetable or fruit, which is unable to further process. This moment frequently results in wasting the fresh harvest that is later, in the best possible scenario, turned into the compost.
"Our idea is to create a communal spot where surpluss pieces of vegetable and fruit can find their further use by being donated to neighbours. In order to use already existing, however abandoned local facility, an old communal storage house will function as a main venue. We wil clean the space and take care of its exterior as well if agreed with a local municipality. Inside the storage house, there will be a light wooden construction installed, where several boxes will be placed on. Each box will be accompanied by a plastic film into which a paper of A4 format can be put. Neighbours will be encouraged to share a favourite recipe in which the donated vegetable or fruit functions as an important ingredience, or their daily thoughts and reflections from the time spent in their garden. In general, any expression of their owns which they would like to share with others will be welcome. Of course, it will be also fully accepted if neither a note, or neighbour's name will be provided. There will be a small table with a pile of papers situated next to the construction. A short handwritten instruction letter will be located on a top of the installation where it will get easily visible to participants. In order to make the neighbours actively participating in the project, we will personally visit every household to explain the project to community members."
Every day, we will visit the place to maintain it and to document the whole process including the notes. At the end of the project, a small booklet consisting of photos and notes, which will be turned into a kind of poetry, will be created, shared with neighbours and located permanently on a locked door of the storage house.
2. "Feeding the Hungry Ghosts" – Food, Ecology and Performance by Alekesandra Wolska
Feeding the Hungry Ghosts is a multidisciplinary performance workshop that explores a participatory and multi-valent nature of nourishment. During the sessions we connect with "the parched Earth" phenomenon (the present-day depletion of the eco-sphere) and choose to enter whole-heartedly, creatively and performatively into a modality of "the web-of-life."  We retrieve our faculty of connection with the elemental Earth, delving into the sacred dimension of food production and sharing; we enact what it means to "become what one eats"  within the newly re-formulated somatic and eco-spiritual paradigms. In doing so, we create a "Feast," a communal event of partaking in the storied and sacralized food, which re-enlivens and re-imagines the cycle of giving and receiving of nourishment. That act, in turn, restores our creative and healing connection with the biosphere as it manifests itself in our own culture and locality.
3. "Water and Wine" "Agua y Vino" – Future Domestic Rituals for a more pleasant way of drinking. Javier Orcaray Vélez (Cordoba, Spain)
This action is inspired by the life and work of anarchist John Zerzan. "Agua y Vino" (Water and Wine) is a collective action for participants and visitors to the exhibition (ArtMill xxx) where we have the opportunity to drink water and wine from collective containers without a need for glasses. The "botijo" is a ceramic object that has been used as an ancient method for both cooling and drinking water throughout centuries. An object with deep roots in Mediterranean popular culture, now in danger of extinction.
Our wine comes from the cellar ¨Mas Molla¨, dating back to the14th century- ¨vino de pagés¨ or peasant wine in unlabelled bottles exempt to taxes or state controls. These wines are sold directly from the caller; a Mas Molla philosophy. We´ll drink straight from the bottle using another ancient "techtool", a piece of cane from the river carved into a bottle spout: un ¨pitorro¨ Instructions for the ritual will be sent, however, participants should be encouraged to drink and enjoy in the most personal and pleasant way possible.
Texts, images and complementary material are meant to open deeper discussions related to histories, the natural world environments and agroecologies. The recuperation of domestic technologies and rituals are essential for the development of the community.
4. Hana Novakova, PhD. (Czech documentary filmaker)
The researcher will be interviewing local people about food shopping habits in our regional supermarkets surrounding ArtMill. She has written extensively on the subject. With ArtDialogue we will produce a short film on the subject.
5. Miloš Šejn (artist)
Artist Miloš Šejn will create a new performance on mills and bread.
6. Veronika Bromová
Czech artist-farmer Veronika Bromová will create new works on site at ArtMill. Learn more: http.://www.planeta-chaos.cz
7. The ArtFarm Research Project
The ArtFarm Research Project initiated during the spring, 2020 quarantine at ArtMill, includes various projects around the theme of supermarket "fast food" and tracing the footsteps, both ecologically and chemically, of purchased food. We compare it to the home-grown delights of our garden and orchards, as well as document the waste produced from commercial food packaging over a two month period. Four short films document the change of seasons, thoughts, and health of ten young people during the quarantine period of Covid-19. Our "Food-Boat" sets out to feed the planet- virtually! And exchange seeds for the future.