In the frame of KOOK Actions, many activities have been proposed by Parti Poétique in Zone Sensible's urban farm. These actions took place on many days with the Table and the Territory and Europe Creative program and were the occasion to create new connexions between citizens through food.
Kitchen workshop with Amaury Bouhours
22.05.2021 – from 10:30am to 12:30pm
For two hours, people were invited to walk around the garden with chief Amaury Bouhours and collect some vegetables, herbs and eatable flowers that would be used during the kitchen class. People present during the activity could cook with the food collected in Zone Sensible.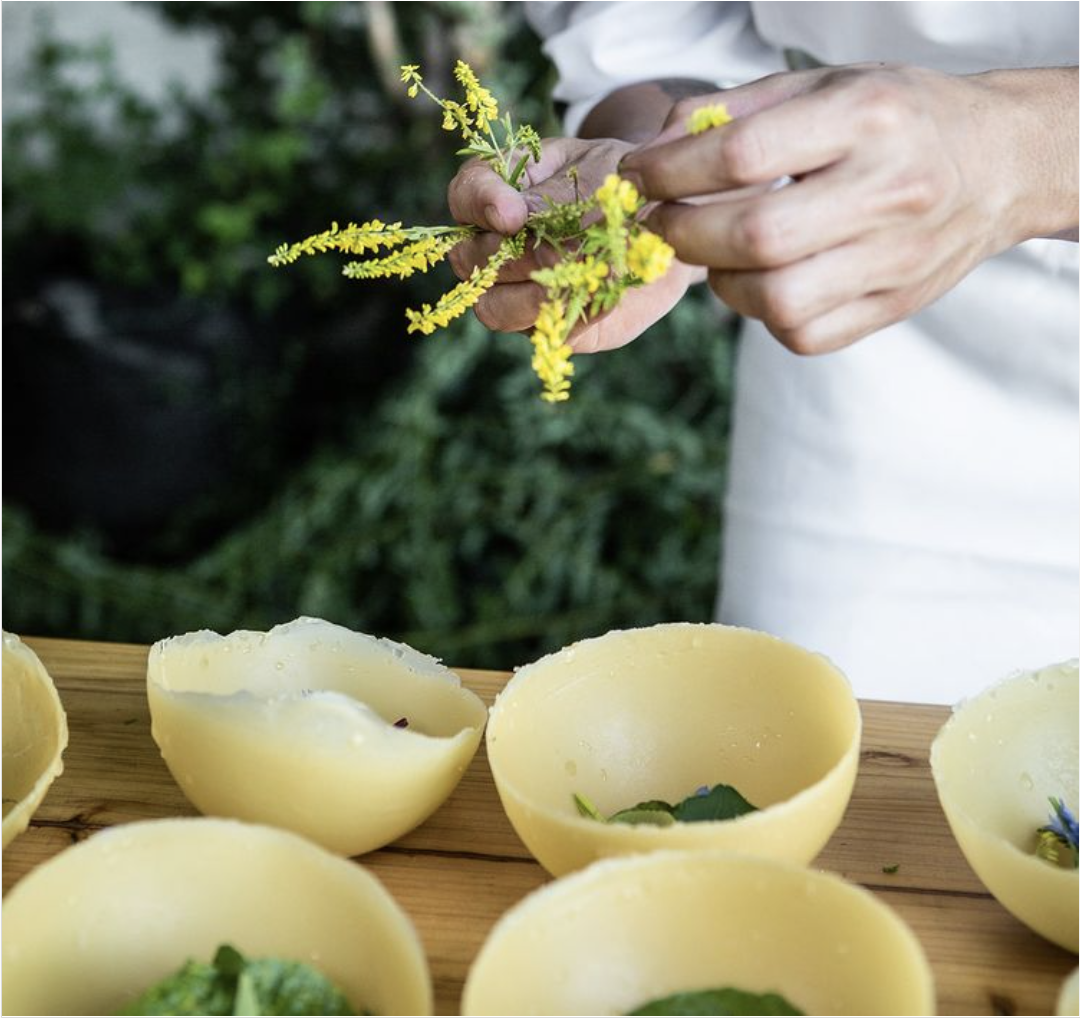 This friendly activity permitted them to learn more about vegetarian food and to share knowledge of all the participants.
Kitchen workshop – class – guided tour of permaculture
26.06.2021 – from 10:00am to 06:00pm
Directly in the garden of Zone Sensible, people were invited to an initiation class of permaculture with Franck, the truck farmer. Opened to all levels of gardeners, people could learn the main principles and technics of permaculture together.
With chief Tess Evans Mialet, a kitchen workshop was proposed around the french pastry to increase the value of Parti Poétique's garden. Helped by many people, she created an engaged desert that they could all gather at the end.
Furthermore, a guided-tour led by Franck was done on the urban farm for an hour. During this tour, it was the occasion to discover the benefits of permaculture through the diversity of plants present in the farm.
Open Gardens – Photoclimat, installations and theater
03.07.2021 – from 10:00am to 08:00pm
For the launch of Open Gardens 2021 by the Région Île-de-France, Parti Poétique proposed a cooking activity for KOOK actions. With Alessandra Montagne, people were invited to try new recipes based on vegetables only growing in the Parisian region. This was the occasion to sensibilise people to local food. After cooking, people shared all together the meal in a joyful time.

Kitchen workshop for Refugee Food festival
10.07.2021 – from 10:30am to 12:30pm
The Refugee Food Festival is creating collaborations between refugee chiefs and local chiefs in many cities of the world. These meetings permit the creation of a new gaze on refugee status, they make professional insertion easier and allow the discovery of new tastes and ways of cooking.
During two hours, Iranian chief Shohreh Haghighat proposed a kitchen workshop based on vegetables, aromatics and eatable flowers from the urban farm of Zone Sensible. People could cook new recipes together and could also share them in a friendly lunch.
BKM – Saint-Denis – BAMAKO
17.07.2021 – from 10:00am to 06:00pm
During a day, Parti Poétique invited people to discover the African continent with BMK – Paris Bamako's association. This day was organized around many activities all along the day.
The first workshop pastry has been proposed to create a mix of eatable flowers from Zone Sensible's garden with African flours. African flours are well-known to be less calorific, so it was the opportunity to mix African food benefits with traditional french pastries while respecting seasonal ingredients.

The creation of wax turbans was also made during the afternoon with Xaleyi association. This association is helping scholarly among Senegal schoolchildren for six years. They gather school supplies as well as furniture. all these actions are possible through the creation of a solidarity shop which was presented on Saint-Denis's farm where people could directly help the project by buying some handmade accessories.
A selling of traditional dishes was proposed for lunch by BMK (BaMaKo), to make discover African food and familial recipes from their mother to visitors. As a real friendly moment, people could gather dishes in the middle of the urban farm and discover new flavors.
After this lunch, everyone was invited to a kitchen workshop to push further their discovery of African food.
To close the day, a concert of Malian music was done by Fakuli, a group specializing in traditional instruments like Djembe or Kora, along with popular and folkloric songs.
Multidisciplinary back-to-school day in Zone Sensible
28.08.2021 – from 02:00pm to 08:00pm
After a summer closure, Zone Sensible re-opened to the public with a cultural day organized around many activities all along the day.

The day started with photo contest prize giving organized with Wipplay and Région Île-de-France. This contest was the occasion to highlight the flora of Île-de-France through the gaze of amateurs or professional photographers.  Three winners and nine favorites have been rewarded and have been exhibited in Zone Sensible. After that, a guided tour of the exhibition have been done with all the participants and spectators and closed with the presentation of Marie-Julie Bourgeois's work presentation of her artpiece "Lagedefer".
Later, chief Alessandra Montagne, partner of Parti Poétique, proposed a pizza degustation made in a specific oven created by the artist Victor Remère in 2021 in Zone Sensible. This was the occasion for visitors to discover new ways of cooking while knowing more about Victor Remère's work.
DJ SET Metech has been invited to make people dance, followed by a cine concert in partnership with CNEAI to project Yona Friedman's Slideshows live with musicians.
Kitchen workshop with Christophe Lavelle
09.10.2021 – from 9:30am to 12:30pm

In the morning, people were invited to a kitchen workshop with the well-known chief Christophe Lavelle. As real alchemists, people could re-think food and ways of cooking through a new gaze, mixing cooking, culture and science. During this event, many citizens learned to create new recipes with vegetables that were directly taken from the urban garden.
Christophe Lavelle : he is a researcher at the CNRS and the National Museum of Natural History, in Paris. A food specialist, he teaches culinary physico-biochemistry at numerous universities and schools and regularly gives lectures to the general public and professionals. He is also co-responsible for the PALIM (Food Heritage) network of the Sorbonne-University Alliance and a trainer at INSPE for cooking teachers. He is the author of a dozen books on food including "Molecules. Science on the plate" (Editions de l'Argol, 2021).
Closure of  2021 cultural season
30.10.2021 – from 12:00pm to 06:00pm
To close the cultural season, Parti Poétique organized a full day activities with the public around a lunch. Many actions for adults and children took place with a refreshment area all along the day.
To start this closure, lunch has been organized, made of pumpkins from the urban farm from 12 pm to 02 pm. People were invited to come with their food to share the lunch as well as to share the diversity of food of citizens.
In the middle of the afternoon, from 02 pm to 04 pm, two workshops have been made: one intended for adults and another intended for children :
The first one was turned toward the aromatics of the urban garden to offer the benefits of these plants to citizens, with chief Ranwa Stephan. This was the occasion to show many healthy possibilities of these plants through the creation of herbal teas or infused oils.
The other one was turned toward the confection of vegan candies with kids, dedicated to Halloween party. These candies were the opportunity to discover a vegan gelose.
For almost one hour, the truck farmer Franck proposed a guided tour of the urban farm to citizens, followed by the sensibilization of climatic change through the game of "Climate mural". People were invited to play together as well as to question their relation and knowledge of climate change through playful time.